Cyma Watersport (Cyma Cal. 416Ka)…
Every so often a watch comes across the bench that isn't complicated or particularly popular with collectors, but has something about it. One such watch was this Cyma Watersport.
(Click pictures to enlarge)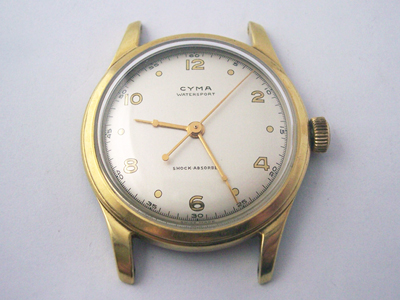 Cyma started producing timepieces in Le Locle, Switzerland in 1862, and during their first 40 years specialised in quality pocket watches, including both chronographs and minute repeater models. After the turn of the century, the company began to diversify into ultra-thin pocket watch calibres and inevitably into the production of  wristwatches. Popularity fuelled growth, and by 1929 they owned the largest watchmaking workshop in Europe, employing 2000 people, and producing 4000 timepieces per day.
Though wristwatches were a large part of their business they were also known for producing alarm clocks, the most famous being the "Sonomatic" fitted with a 16 jewel movement which had an 8 day power reserve.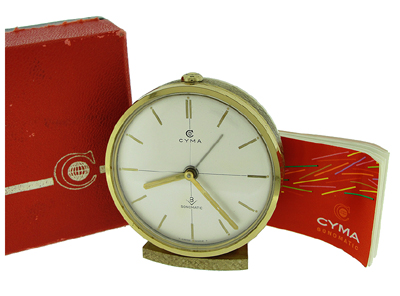 Cyma are still in business today and you can see their current collection here (which includes some chronometer rated automatics… always a good sign!).
The watch in this post was made during the 1950's and is fitted with a Cyma cal. 416 Ka., a straight forward time only calibre with a leisurely beat rate of 18,000 bph (in modern watches that has now increased to 28,800 bph or 6 bps for increased accuracy). Though not quite as finely finished as the Longines cal. 30L I wrote about recently, the Cyma still has chatons for the train wheels and an overall quality feel.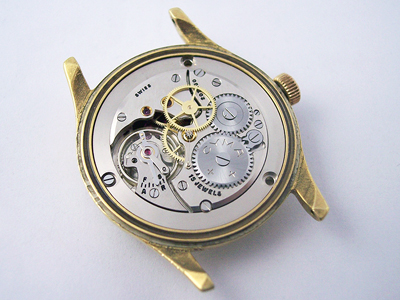 One thing to note is the shock system fitted to protect the balance staff in the event of a fall. Rather than use one of the proprietary systems such as Incabloc or KIF, Cyma chose to develop their own and called it the "Cymaflex".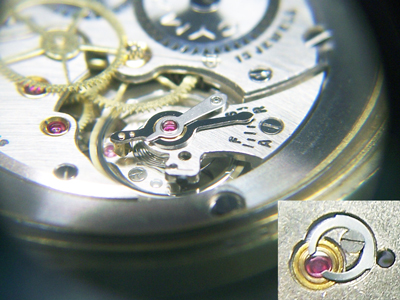 Protection is provided by a thin steel arm mounted on top of the balance cock which houses the cap jewel for the balance staff. In the event of a shock the arm flexes to absorb the force, cushioning the pivots on the balance staff. Inset is the more simple spring fitted to protect the balance staff pivot on the dial side of the movement.
The system works on the same principle as the first ever shock protection system, the "pare-chute", developed by Abraham Louis Breguet in the late 18th century.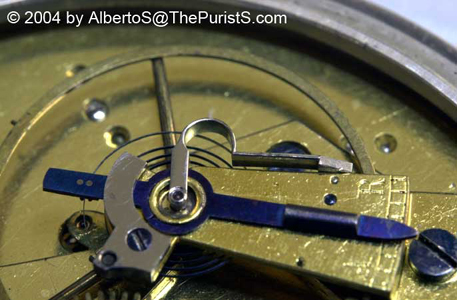 Needing nothing more than a service, this watch was quickly up and running again. As modern trends have moved away from this kind of watch they are easily overlooked, but with a dial and hands as fresh as they day they were made and a good quality movement inside, they are always worth looking out for.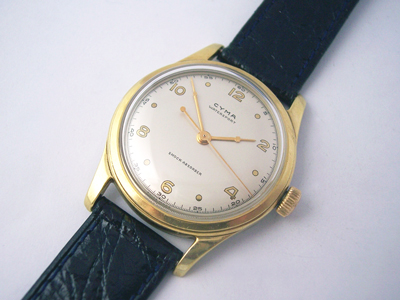 Rich.
** Many thanks to Kevin van der Zouwen of the watch collectors trade and information site Some Time Ago for letting me feature his watch on the blog. **