Oris Cal. 581…
Another vintage Oris, this one from the 1940's or early 50's. It arrived in much better cosmetic condition than I was expecting, the case, dial and crown were near perfect…
(Click pictures to enlarge)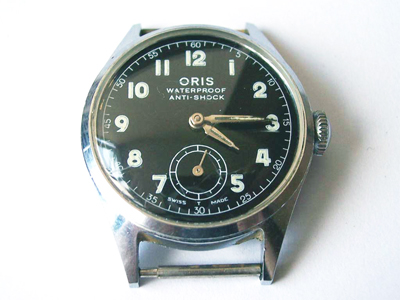 It wasn't running and I initially thought the problem may have been this huge hair left in there by the last (blond!) watchmaker… yikes! Alas, I wasn't that lucky and on further inspection found that one of the pins on the pallet lever had been snapped off (inset).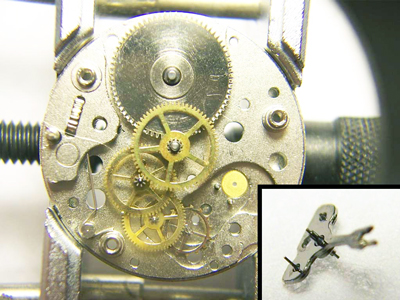 I had a couple of old Oris movements lying around from which to salvage a pallet pin (as you do!), so after carefully levering out the broken pin and replacing it, we were back in business.
Oris were one of the few watch companies to take the manufacture of pin lever movements seriously, especially in the 1940's and 50's, when they were prevented from producing jewelled lever watches by a Swiss law (designed to protect the big manufacturers from competition).
Undeterred, they continued to refine their best pin lever movements, eventually rivaling the precision watches of the day, and even obtained a number of C.O.S.C. certificates along the way. No mean feat!
With the movement up and running, I relumed the hands, replaced the crystal and the watch looked like new again, both inside and out.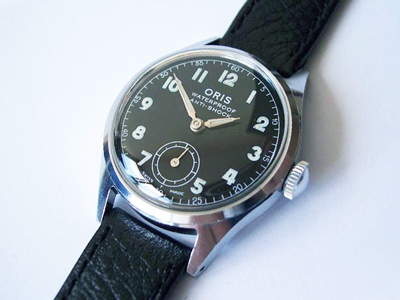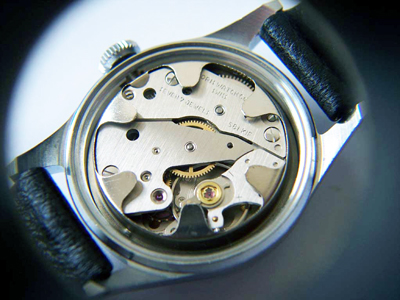 Rich.