Accurist Shockmaster (ETA Cal. 2391)…
This Accurist was bought for my father's 21st birthday by my grandparents. He wore it every day for a decade or so before water leaked into it, the crystal fogged up, and he put it in a drawer to be sorted out 'later'. Well, almost 30 years 'later' it re-surfaced (probably from the same drawer!) and he asked, "You're into fixing watches, can you do anything with this?"…
(Click pictures to enlarge)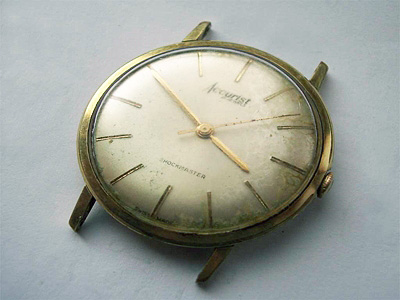 Looking at that dial, I knew it would be a challenge but with it's family history, how could I resist? I was expecting to find an equally grim picture inside the caseback, but was surprised to find the movement in quite a reasonable state.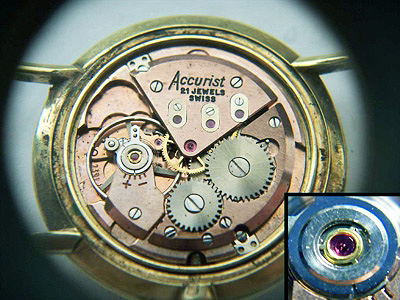 The movement in this watch is a 21 jewel ETA cal. 2391, a hand wound calibre that was made during the 1950's and 60's. A 17 jewel version was also available, the difference in the 21 jewel version being cap jewels on the majority of the train wheel pivots. It's also worth noting that this particular movement is fitted with a Trishock shock protection system for the balance staff (inset) rather than the Incabloc system more commonly seen on ETA's movements, both old and new.
Here's a picture of the movement after a thorough cleaning. Just a few pit marks around the Accurist logo is all that remains…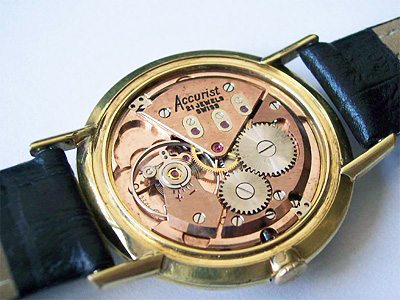 The dial didn't fare quite so well, as a good portion of the lacquer had been eaten away over the years. I did the best I could with it and luckily all the dial print was still intact.
So overall, not too bad. Not quite back to it's former glory, but certainly better than it was.
Rich.