Seiko 6138-3002…
This 6138 chronograph is one of Seiko's more popular vintage watches. Apart from a few marks on the case and a scratched crystal it was in good cosmetic condition, but it was only a weak runner and the 30 minute register wouldn't reset to zero.
(Click pictures to enlarge)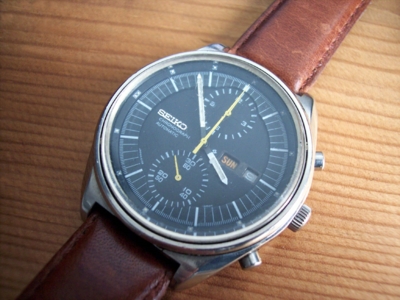 Investigating the subdial problem, it turned out to be just a loose fitting hand. When resetting the registers, the hands are returned to zero with quite some force. If any of the hands are not a tight fit, they can twist on their axles giving the impression that the whole mechanism is not working properly.
To prevent this from happening, chronograph hands are generally a tighter fit, which also means that they are harder to press on, so a slip during hand setting can easily split a hand tube. Luckily, the minute register tube wasn't split on this one, just out of shape, so a little adjustment tightened it up again.
One of the additional features of the 6138 chronograph over the 6139 is the ability to hand wind the mainspring, an uncommon feature for a 6 series calibre. Comparing the calibres, you can see that the hand winding feature is achieved quite simply…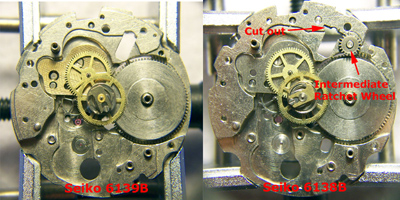 The 6138 has two extra wheels to connect the keyless works to the mainspring barrel, the first intermediate ratchet wheel is mounted directly on the mainplate. Notice that a cut out section is needed to allow the winding pinion from the keyless works to mesh with the extra wheel.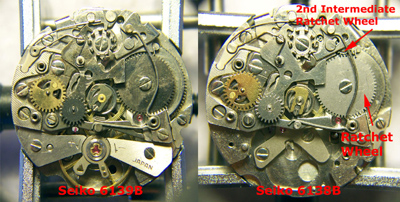 A second intermediate ratchet wheel is then added to the train wheel bridge and meshes with the ratchet wheel to wind the mainspring. Hand winding is a useful function to have and with such a simple mechanism, I wonder why it wasn't been built into the 6139 or some of the other 6 series calibres?
I tried to polish the mineral glass crystal on this one… but what a job! Without the right tools it's hard to get a perfect finish, so much so that I eventually gave up and sourced a replacement. (I've since learned that there is a very easy way to polish a mineral crystal… take it to Specsavers opticians and let them do it!)
Judging by the condition of the movement I don't think this one had been used much, so with it's new crystal, a strap and a case polish it looked like new…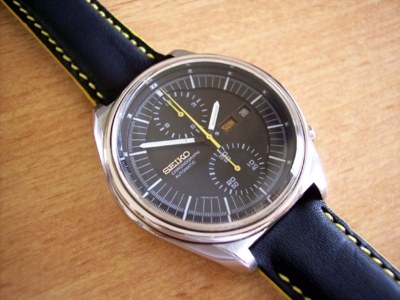 Rich.