Memostar Alarm (A. Schild Cal. 1931)…
With its TV-screen dial and retro styling, there's no doubting that this Memostar alarm watch is a product of the 1970's.
(Click pictures to enlarge)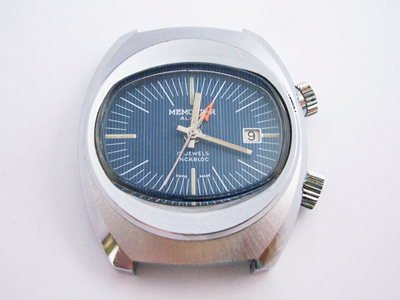 The case on this watch was still in great condition which was a bonus as being chrome plated, many have suffered from 'wear through' over the years, especially on the back of the case and around the lugs.
The movement in this watch is an A. Schild cal. 1931, manufactured some time between 1970 and 1974.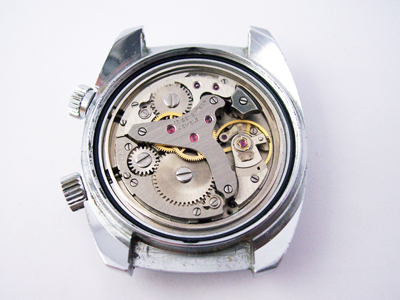 The cal. 1931 (and its no date sibling, the cal. 1930) superseded another A. Schild alarm calibre, the 1475, adding a date and increasing the beat rate from 18,000 to 21,600 bph.
The original AS cal. 1475, easily qualifies as the world's most widely used alarm calibre. Production started in 1954 and in its 16 year production cycle, more than 750,000 were made, some of which were re-branded for other watch manufacturers; Tissot, Benrus, Bulova and Girard Perregaux to name but a few.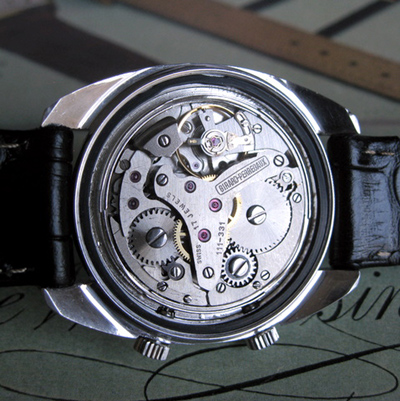 The AS 1475 was used as the basis for alarm calibres developed by other manufacturers too, such as Citizen and Poljot/Sekonda. The Poljot cal. 2612.1 found in the majority of Russian alarm watches is an almost identical copy of the AS 1475. For a description of how this particular alarm mechanism works, check out this post about a Sekonda alarm watch I wrote a few years ago.
The watch in this post arrived with a working alarm (always a good start!), but it wouldn't run, and the date was stuck. As is often the case with watches that have been unused for many years, the oil had dried out, effectively acting as glue on the pivots. A thorough cleaning and re-oiling was enough to bring it back to life, but the date change problem needed further attention.
Closer inspection revealed that the problem was with the date ring. Many of the teeth had either been damaged or had simply worn away (see inset picture below). Though the rest of the mechanism was working correctly, the date jumper didn't have enough contact with the date ring teeth to move it forward when passing midnight.
I was able to track down a replacement date ring which immediately solved the problem. (Notice too how the old date ring has yellowed over time.)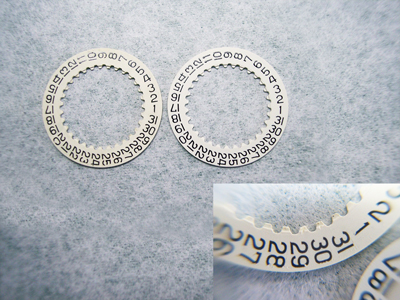 With the movement serviced and date ring replaced, I cleaned the case, re-painted the faded alarm pointer, and fitted a suitable bracelet to finish the job.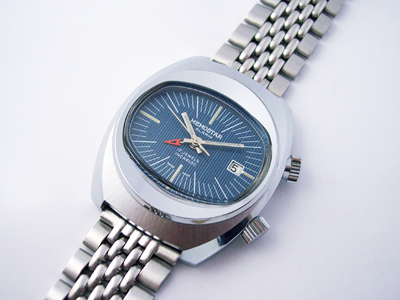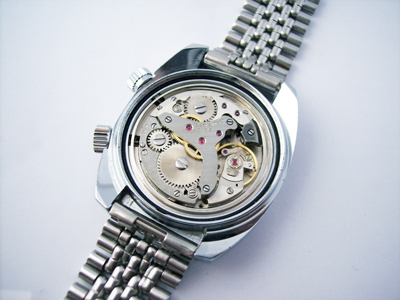 Rich.