V.I.P. Memosail (Valjoux Cal. 7737)…
Still in use by a regular sailor this Memosail had one taken one wave too many.
(Click pictures to enlarge)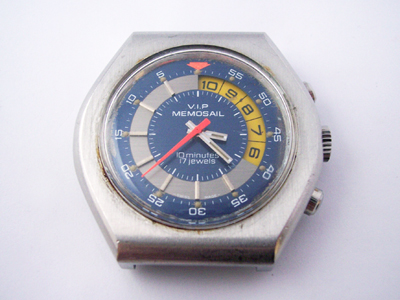 The owner first noticed condensation appearing inside the watch in May and the watch found its way to me in October. Opening the caseback I was amazed how much rust had developed in such a short amount of time.
The movement inside this watch is a Valjoux cal. 7737 which is modified version of the Valjoux cal. 7733/34. I explained the modifications to the base calibre in a previous post, interested parties can read that post here.
Close inspection of the dial also revealed that the water had got under the edges of the dial paint too.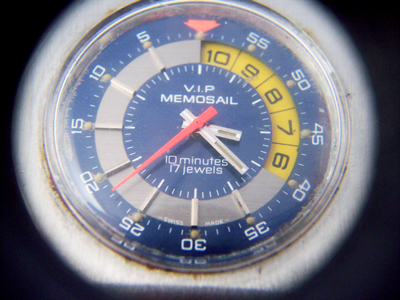 In some cases, like the Zenith Surf that I wrote about recently, you can get lucky and only the outer parts of the movement are affected, but when the dial is damaged that is a sign that water has made its way right through the watch, and sure enough, digging further into the movement wasn't a pretty sight.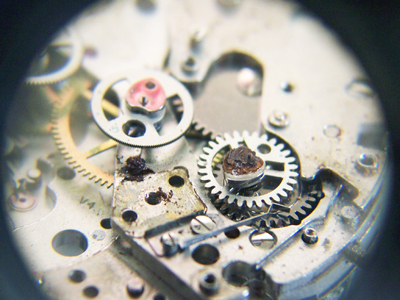 In cases like this it would be best to order a new part, but specific parts for the cal. 7737 aren't so easy to find these days, so the only option was to clean up and polish the chronograph heart as much as possible, and repair the pivot using a Jacot tool.
A Jacot tool is used to repair and refinish pivots in clocks and watches. It would be much too long a post to include a detailed description of how it works, but here is a picture of it.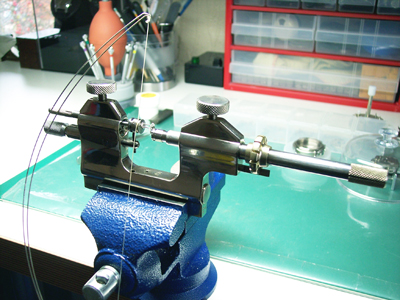 The wheel with the damaged pivot is mounted in the tool and the bow on the left is used to spin the wheel back and forth by hand while working on the pivot with a pivot file or burnisher.
With the rust removed and the rest of the movement serviced, it was back up and running again. The last thing to do was some repair work on the dial. Without a compete repaint it will never be perfect, but the repair isn't noticeable in daily use.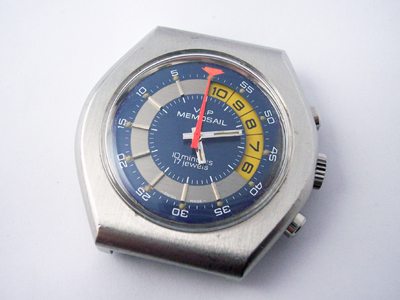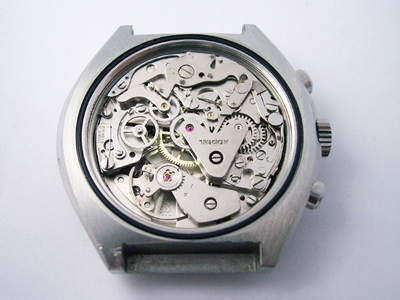 Rich.
** Many thanks to Richard Littlewood for letting me feature his watch on the blog. **