Seiko 4006-6040 (17J Bell-Matic)…
Up and running again and first in line, another Bell-Matic. This time one of the more popular integrated bracelet models with a great blue dial.
(Click pictures to enlarge)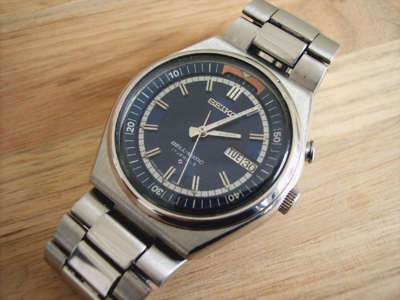 I bought this one on eBay without seeing a movement picture (I like a gamble!) and was pleased that the movement, though not working, was in decent condition. The watch did have a few cosmetic issues that would need to be put right though, the caseback was wrong (a -6031), the bezel had a large dent in it, and the crystal didn't fit at all. I also had my suspicions that the hands weren't right, but I've seen this model with several different styles, so I decided to leave them as-is for now until I know for sure.
I had my doubts about the originality of the bracelet too. Though the fit and finish matched the case perfectly, the -6040 is more commonly seen with a different stlye of bracelet. However, a bit of digging turned up this old Seiko brochure which shows a -6040 with the same bracelet, so that was good enough for me.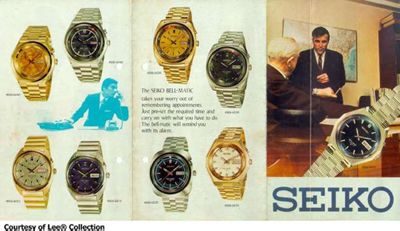 If you're looking to buy an integrated bracelet model, it's worth paying particular attention to the bracelet, as a regular strap can't be fitted to this style case. Seiko's stock of replacement bracelets ran out years ago and there isn't an aftermarket alternative, so you'll see some real disastrous 'work-arounds' out there on the open market.
I knew before I bought this one that I had a good -6040 caseback and bezel from an old parts watch which I could use, so a once over for the movement and a new crystal finished it off.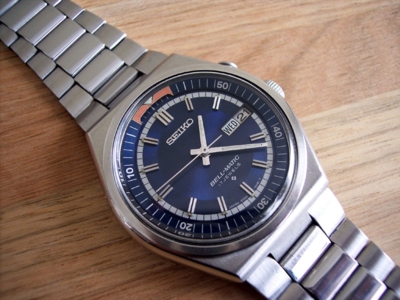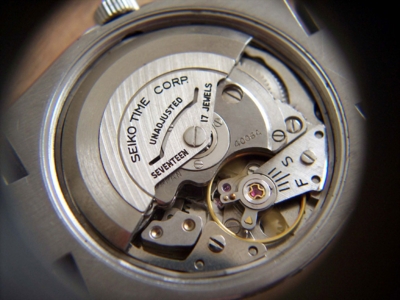 Rich.