Seiko 6309-7040…
This cushion cased diver is considered one of Seiko's classic diver's watches… although not looking like this!
(Click pictures to enlarge)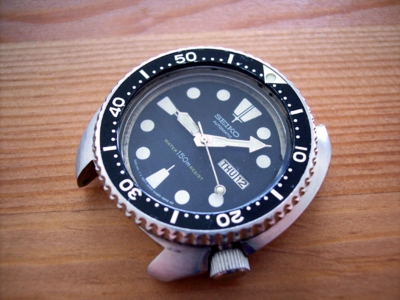 This one came to me as a parts watch in a larger lot and I was hoping that, although missing a few parts, it might be all original. Unfortunately not. If you look closely you can see that the writing at the bottom of the dial says 'CASED HONG KO' which means it's an aftermarket dial. Original dials have 'CASED HONG KONG' printed in full.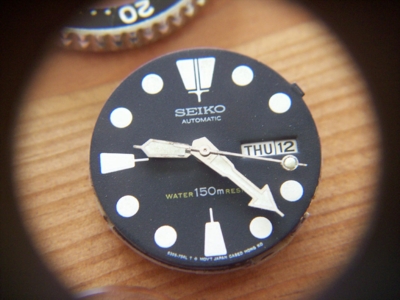 When fully dismantled I found that the crystal retaining ring, crystal gasket, reflecting ring and chapter ring were all missing. A donor watch from the bay gave me all the parts I needed and after a movement service it's running nicely, though I'm not 100% happy with it yet.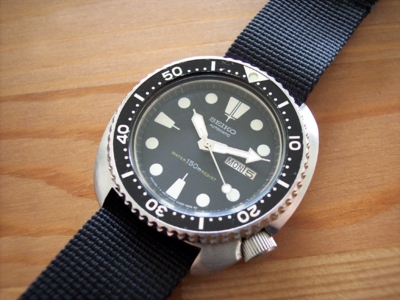 The chapter ring from the donor watch was pretty badly faded, and as the original hands were beyond salvation with both the lume and the silver plating having corroded, I replaced them with aftermarket ones which are fine for now.
At 45mm wide and 13mm thick this is the biggest watch I own and looks a bit like a 'wall clock with a strap' on my girly-man wrist, so I'll have to see how I get on with it. Here's a side by side shot with an regular sized watch to give you an idea how big it is. (The Bell-Matic is 39mm wide including crown).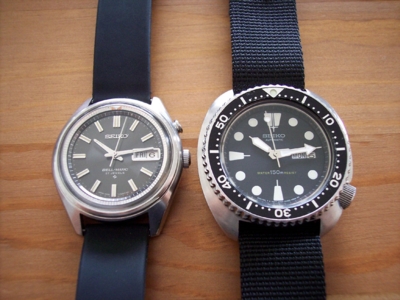 Maybe I should just put on some weight… cake anyone?
Rich.