Seiko 6138-0030…
Of all the 6138 Chronographs, this model has always been my favourite so I snapped this one up. It was a bit rough from a cosmetic point of view, but ran and reset properly, which was a good start.
(Click pictures to enlarge)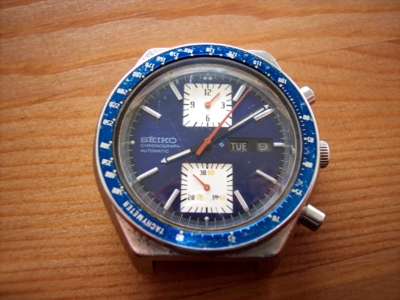 The seller said that the dial was scratched but I wasn't prepared for this…. yikes! I bet a few choice words were uttered when this happened.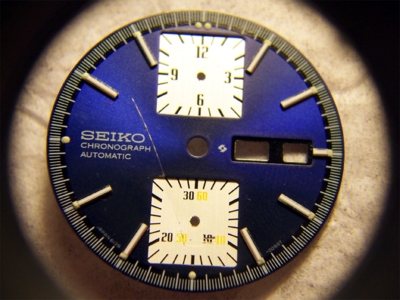 From a technical perspective, the main difference between the 6139 and the 6138 is the 12 hour register for the chronograph, the mechanism for which is housed beneath an additional plate under the dial.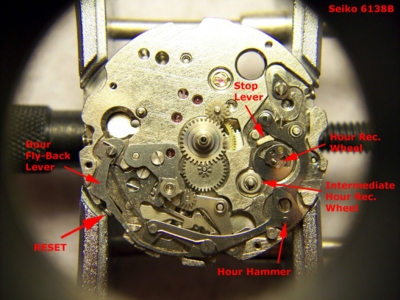 Rather than being connected to the hour wheel as you would expect, when the chronograph mechanism is engaged, the hour recording wheel is actually powered by the mainspring barrel via an intermediate wheel attached to the end of the mainspring barrel arbor.
When the chronograph is stopped, the hour recording wheel is arrested by a spring loaded stop lever. The intermediate hour recording wheel also has a friction spring underneath it to allow the mainspring to still turn when the chronograph is not engaged.
To set the hour register back to zero, the reset button pushes the hour fly back lever. This in turn pushes up the hour hammer to contact the heart shaped section of the hour recording wheel, rotating it back to zero regardless of its position.
The watch came with an aftermarket bezel and dial to put the cosmetics right, but the dial wasn't a very good reproduction, so I did the best I could to repair the original. The aftermarket bezel was better, but though it looks ok, it had to be filed down almost to the numbers to fit. I'll be keeping my eyes open for some genuine replacements, but it could be a while as they are hard to find these days.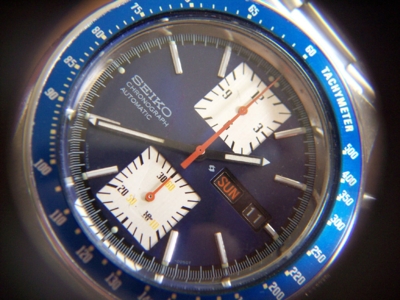 A new crystal, gaskets and a case polish finished the job… my 'hit list' is slowly getting shorter!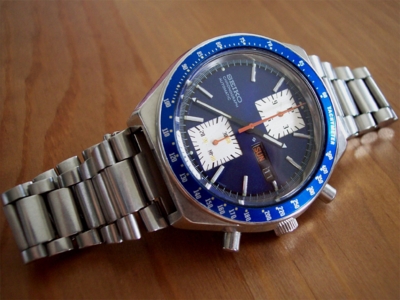 Rich.