Seiko 4006-7020 (27J Bell-Matic)…
Another 27J Bell-Matic, like the last one, a -7020 model but this time with it's original bracelet. The watch had been 'resting' in a drawer for years but despite being a little untidy on the outside, the movement was in great shape with just a little wear on the edge of the train bridge caused by worn rotor bearings.
(Click pictures to enlarge)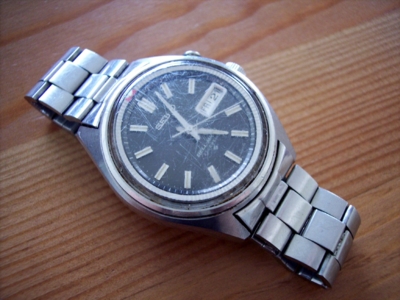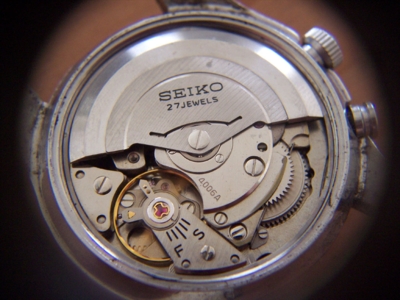 The second hand had been replaced with one that was too long, but apart from that there was little sign that the watch had ever been opened. However, when I removed the calendar plate… Huh? A jewel for the lower mainspring barrel arbor?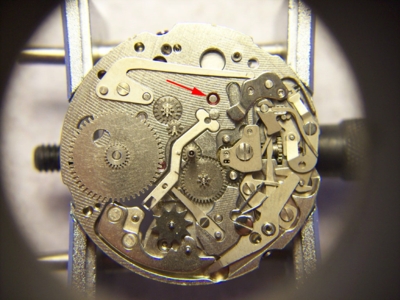 As this was one of the earlier Bell-Matics (Nov. 1967) I wondered whether this was a different jewel layout, but as none of the other jewels were missing this had to be an extra. Under 10x magnification I could see that the inside of the hole was not plated, so the jewel setting must have been reamed and pressed in at a later date by a very diligent watchmaker, making this a very rare 28 jewel Bell-Matic, great! (Inset is the opposite side of the jewel with the mainspring barrel removed).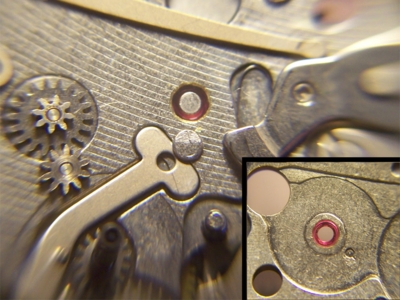 This extra jewel means that every pivot in the timekeeping side of the movement now has a jewel which reduces friction and wear, increasing accuracy. For comparison, here's a shot of a regular main plate in which the lower mainspring arbor has worn through the plating after many years of use.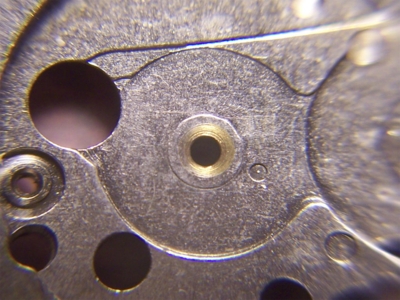 Eventually, this wear will result in too much endshake for the barrel. Under the tension of the mainspring, the barrel will then be pulled out of alignment and will not mesh smoothly with the centre wheel, affecting the timekeeping or stopping the watch.
No more surprises… so after a good cleaning, I replaced the worn winding rotor bearings, found a replacement second hand and gave the case and bracelet a light polish. I even managed to clean up the original crystal.
Here's the result… my 28 jewel Bell-Matic.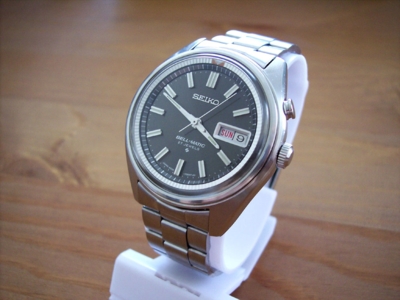 Rich.