Seiko 7002-7000…
As far as Seiko's automatic divers watches go, this is one of the more common ones, a 7002-7000 model from 1994.
(Click pictures to enlarge)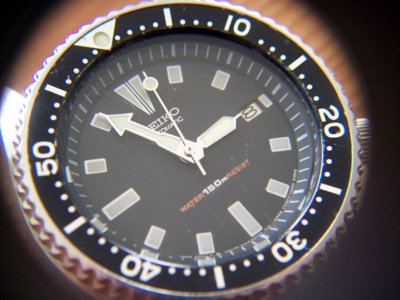 Many of the cosmetic components of these Seiko divers get replaced with aftermarket parts but from what I can tell (and I'm no expert!) the dial looks to be original, the hands, I'm not so sure about.
This watch is fitted with the 7002 calibre, the predecessor to the 7S26 calibre, used in the majority of Seiko's current low-mid priced watches. It wasn't hard to see what was wrong with this one, the hairspring had the shape of a 'regulating slip', with a crushed dog-leg.
As the same balance assembly is used in all the 7 series calibres I had a perfect balance wheel and hairspring waiting in the wings for just such an occasion, the original I can probably re-round if I need it at a later date. The rest of the movement showed very little wear when stripped down, and cleaned up nicely.
This watch a real mix and match affair. The movement was manufactured in Singapore (note the SIN stamped into the mainplate above), the dial is made in Japan and the watch is assembled in Hong Kong. I don't know if this is seen as the 'poor cousin' of the all Japanese version but it certainly doesn't affect it's performance in any way.
The case was still in good shape and didn't need polishing but I did replace the scuffed up bezel insert with a new (aftermarket) one. After replacing the gaskets, the last thing to do was press in a new crystal and it's ready for action again…
Rich.