Chateau Digital (Baumgartner Cal. 582)…
How about this for a slice of the seventies!? Also known as a 'jump hour' watch this Chateau Digital predates LCD digital watches, but has a similar digital style display.
(Click pictures to enlarge)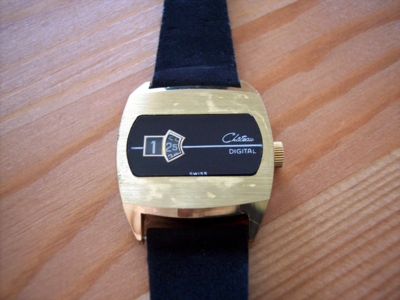 While still fitted with a mechanical movement, the cannon pinion and hour wheel on the dial side (which hold the hands on a regular analogue watch) are replaced with a two ring system displaying the hours and minutes and the whole system is driven directly from the mainspring barrel.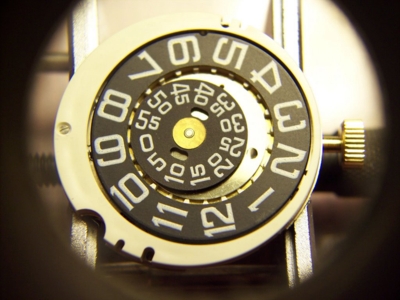 I was hoping to find out exactly how the dial side mechanism worked, but on this model the whole unit was crimped onto the main plate, so I was reluctant to prise it apart. The movement itself was a Baumgartner 582 calibre, with just a single jewel, a cap on one end of the balance staff.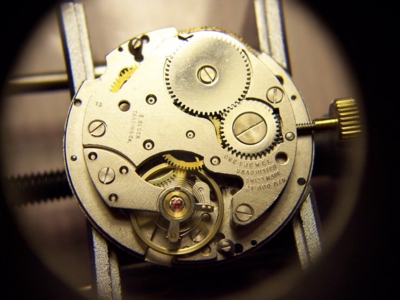 Despite being a basic movement, it showed no wear at all and when cleaned and oiled, it kept good time. I don't think this watch had ever been used as it even had it's original 'suede effect' strap.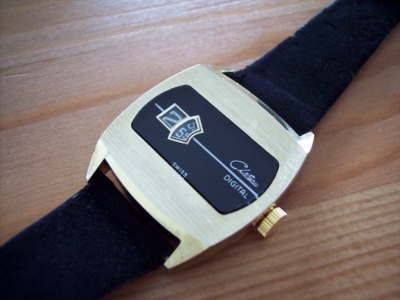 I didn't get everything I was aiming for out of this one, as I was hoping to discover the secrets of the jump hour mechanism… next time!
Rich.