Dugena Chronograph (Valjoux Cal. 7733)…
There has been quite a few Valjoux powered chronographs on the blog, and here is another one, this time from Dugena.
(Click pictures to enlarge)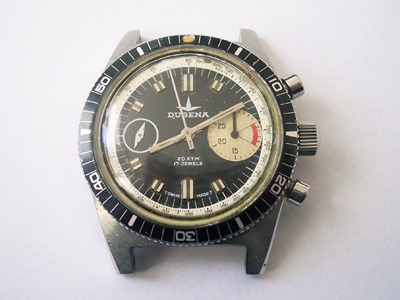 Dugena are a German watch company with over a 100 year history. They were originally part of the 'Union Horlogere', a watchmakers guild founded in Switzerland in 1900, but after merging with the company Glashütten Alpina in 1917 they traded under the name Alpina as part of the 'Deutsche Uhrmachergenossenschaft' (German Watchmakers Guild).
The company changed their name back to Dugena in 1942, and during the 1970's they produced a number of good quality divers watches, one of the most interesting being this Watertrip model with a mechanical depth meter.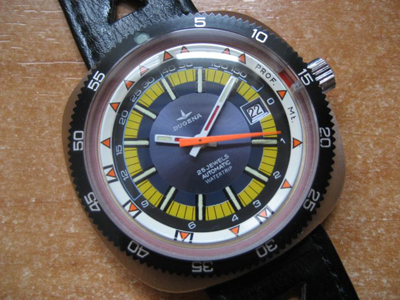 The company is still trading today, but like many other well respected brands from the past, the mechanical part of the range has gone and the company only produces quartz watches these days. You can visit their website here.
When disassembling this watch I discovered an unexpected problem, the crystal was cracked all around the base. Though this isn't ordinarily a problem and is quickly solved by fitting a new crystal, on this watch it was a potential problem as the crystal has a step on the outside to hold the bezel in place.
Generally these friction bezels are pressed over a lip on the upper edge of the case and a thin wire underneath provides tension to stop them from turning unintentionally. I was prepared for a long search for a replacement crystal as this isn't a model seen regularly, but I was lucky to find one in a relatively short time.
Mechanically the movement was in good condition but the chronograph didn't work and would stop working as soon as the minute counter was due to advance. On closer inspection I could see that someone had moved all the eccentric screws and the meshing depths were all wrong for the chronograph wheels. Aside from making minor adjustments there should be little need to alter the position of the eccentric screws during a regular service.
After a full service for the movement and setting up the chronograph mechanism properly again it was on to the cosmetic issues. The hands and dial markers were repainted and the bezel dot was repainted and lacquered. After cleaning the case, fitting the new crystal and re-assembling, here is the result.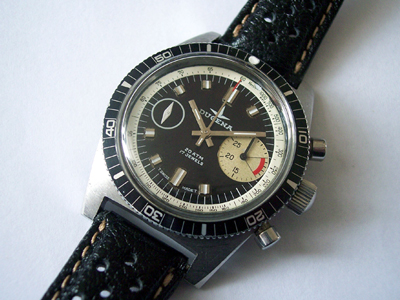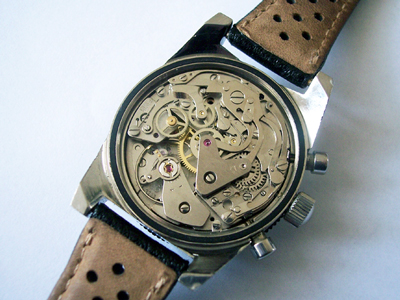 Rich.
** Many thanks to Menno van Rij for letting me feature his watch on the blog. **