CWC Chronograph (Valjoux Cal. 7733)…
This chronograph from CWC is the first British military watch to feature on the blog.
(Click pictures to enlarge)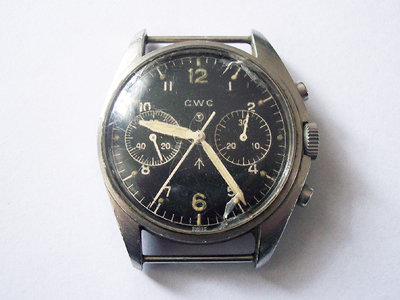 The brand name "CWC" stands for Cabot Watch Company, who were established in 1972 and have been providing equipment to the British military for over 30 years.
As you would imagine, a wristwatch is an important piece of equipment for any defence force and performance specifications have to be met before any timepiece is deemed fit for military use.
Every country has its own specifications (and suppliers) which have evolved as technology has advanced. The British forces have been supplied by several companies over the years, namely Lemania, Rolex, Hamilton, CWC, Jaeger Lecoultre, Tudor, Newmark, Precista, Seiko and Pulsar.
Any watch issued to a member of the armed forces is marked with a designation number and a serial number which includes the year of issue. In addition to this, equipment issued to British personnel is marked with the "Broad Arrow" symbol. As you can see, the watch is marked with the Broad Arrow symbol on both the dial and caseback in this case.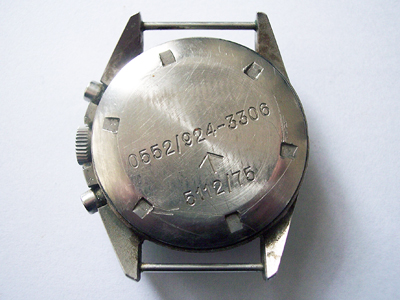 The Broad Arrow symbol is used to denote British Government property or more specifically Ordnance; weapons, ammunition, combat vehicles and equipment. The history of the symbol dates back to 1553 when Sir Thomas Gresham, the founder of the Royal Exchange, smuggled gunpowder into England in barrels marked with the symbol "(/\)". In 1633 it became the universal marking for Ordnance when it was used on all small arms and ammunition, and the symbol has developed over the years into the Broad Arrow symbol used today.
The watch in this post arrived in a pretty sorry looking state, it did run, but the chronograph didn't work or reset. Opening the caseback revealed a relatively clean Valjoux Cal. 7733…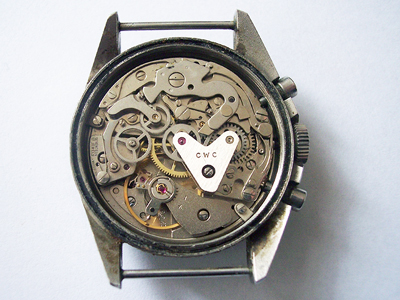 As you can see the caseback gasket had deteriorated into black gunge but it had managed to keep the moisture out.  Mechanically the movement was sound with no damage or signs of  corrosion, so a regular service restored it to fully working condition.
The case needed two cycles through the ultrasonic to remove the build up of dirt and the pushers had to be taken out and relubricated, but after that, all that was left to do was install a new crystal and the job was complete.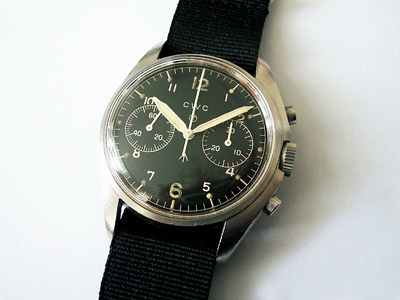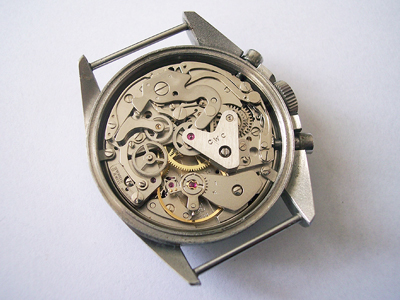 It is still possible to find these watches on auction sites and sales forums in a variety of conditions, but you may need to open your wallet wider than you think as most military watches are extremely collectible.
It is also possible to buy a modern interpretation of this watch (fitted with a ETA cal. 7760) directly from CWC… but go for the original I say!
Rich.
** Many thanks to Lee Curtis for letting me feature his watch on the blog. **