Aquastar Regate (Lemania Cal. 1345)…
A rarer version of the Regate this time, and one with a black rather than a silver dial.
(Click pictures to enlarge)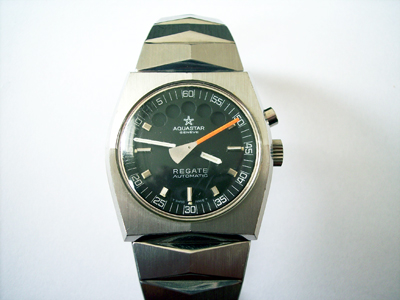 What makes this Aquastar different to the other Regate models on the blog is the design of the case and bracelet. It has what is called a 'Lobster Tail' or 'Armadillo' bracelet which consists of overlapping sections of metal, rather than being made up of independent links like a traditional bracelet.
While it sounds like more like an instrument of torture than a watch bracelet, it is surprisingly comfortable as the bracelet forms a natural band around the wrist.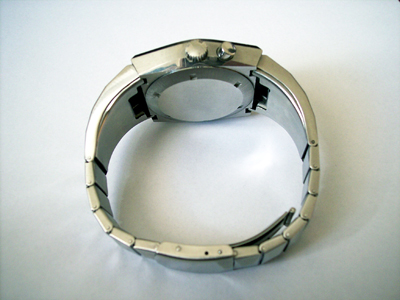 The same case and bracelet was also used by Tissot who released a dual Tissot/Aquastar branded version of the Regate, and also a similarly styled chronograph fitted with a Lemania cal. 1341.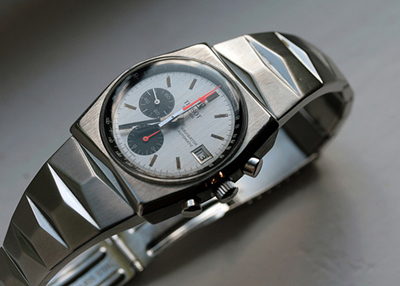 The calibre in the Regate is the Lemania cal. 1345 which is a modified version of the cal. 1341 chronograph. Rather than repeating how the timer mechanism works, I'll direct interested parties to this post for more details.
The watch arrived in running condition, but it hadn't been serviced for many years. It was almost impossible to set the time or wind the watch manually, and the power reserve was minimal.
When disassembling the watch I noticed something odd about the dial. Underneath the "REGATE Automatic" lettering on the dial, it had once said "REGATTA Automatic", the name of the Heuer variant of this watch. The deleted lettering was just legible using a microscope.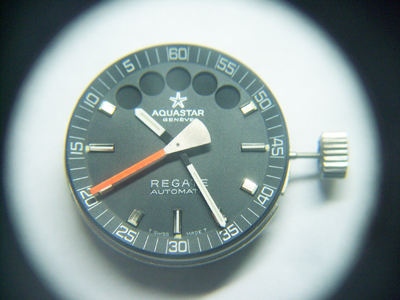 I presume that the dials for all models will have been produced in the same factory, but whether the Aquastar models were to be branded "REGATTA" rather than "REGATE" at some time, or they just had some Heuer dials left over and re-used them, who knows?
A movement service cured the winding and setting problems, so after a clean up, the watch was back to its best.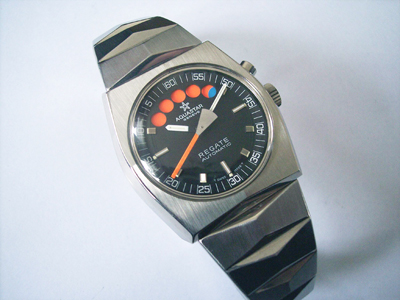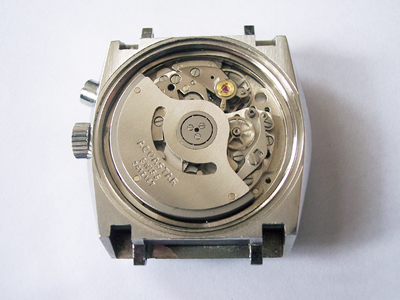 The owner of this watch, Mark Reichardt, has a keen interest in sailing timers. If you have any questions or information about them, especially the vintage mechanical models, I'm sure he'd like to hear from you. You can contact him at the following email address; j.m.reichardt@planet.nl
Rich.
** Many thanks to Mark for letting me feature his watch on the blog. **