Seiko 5606-7070 (23J LordMatic)…
Yet another one piece case, I've had a run of these lately, this time it's a 23 jewel LordMatic from 1971. This non-runner had an ill-fitting crystal and was in a particularly scruffy state.
(Click pictures to enlarge)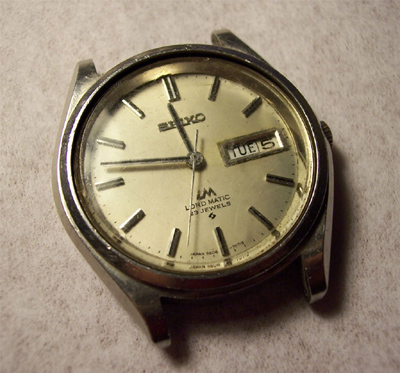 The 5606 calibre in this model is a step up the quality ladder over anything in the 61xx series adding the ability to handwind and introducing a number of design improvements. Randall Benson has written an excellent technical description of the 5606 calibre which can be viewed here.
One thing I will highlight about the 5606 is the method used to apply tension to the cannon pinion. Rather than placing an indent in the tube of the cannon pinion as seen in the majority of movements, a spring is installed under the minute wheel which presses it against the cannon pinion. The cannon pinion in this calibre is actually mounted on the third wheel in the wheel train so it's important to check the tension on it before you've rebuilt the whole calibre or you'll have to disassemble the going side again.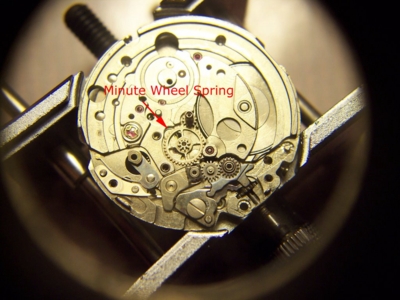 As Randall mentioned, in 90-95% of cases the day/date rocker in this calibre cracks with age, meaning that the quickset functions no longer work. If you look closely at the picture you can see that this movement has that problem too, but apart from that, all that was needed was a thorough overhaul to restore it to it's former glory.
Here's a picture of my (over-worked!) claw about to drop in a new crystal and one of the watch all cleaned up.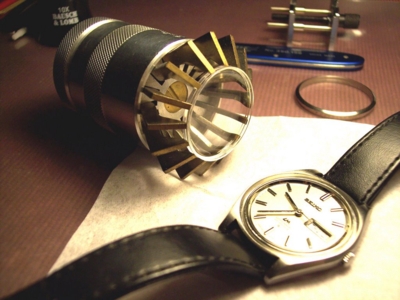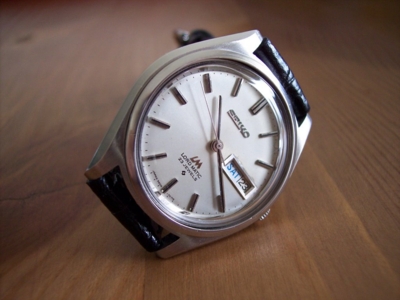 Rich.