Herodia Chronograph (Lemania Cal. 1270)…
This Herodia chronograph dates to the late 50's or early 60's. While not a recognised brand, it was well worth restoring as it had significant sentimental value to its owner, whose father wore it every day for more than 20 years.
(Click pictures to enlarge)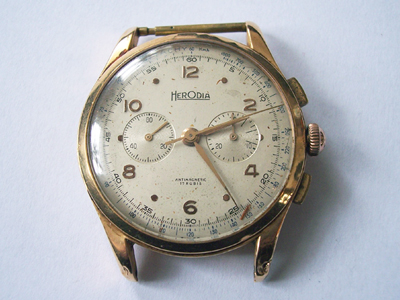 A search on the internet uncovered very little about the company Herodia, though curiously the name is still being used by what looks to be a Spanish based sub-brand of the company Cyma (http://www.herodia.net/). There seems to be a few automatic models in the lineup but not using anything like the quality calibres of the past, which is a shame.
The movement inside this watch is the Lemania Cal. 1270, a good quality manually wound calibre from a well respected manufacturer. Though the watch was running, it wouldn't do so for long and the chronograph functions didn't work at all. Cosmetically, the condition was reasonable, the dial showed a little patina but on the whole not too bad. The case however, was another story.
Typical of many chronographs from this era, the case was made from thin 18 karat gold. As the lugs on these cases are hollow they are susceptible to damage and the watch had taken its fair share of knocks over the years. The case and bezel had a number of dents, and three out of the four lugs were damaged, the worst of which was punctured all the way through.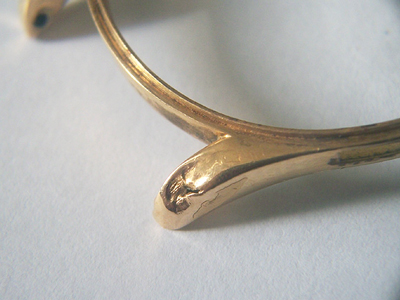 There was no way I could repair the damage myself, so it was time to enlist some professional help. I sent the case to goldsmith Sven Grollé, who did a great job, and after just a couple of weeks the case came back in near perfect condition.
With the movement stripped down, there were no major problems, a return spring was dislodged preventing the chronograph mechanism from working properly, and the short power reserve was caused by a 'set' mainspring.
With a new mainspring ordered and fitted and the rest of the movement serviced, it was back up and running again. The movement was ready and waiting for the case to return, so it was just a matter of rebuilding the watch, and here's the result.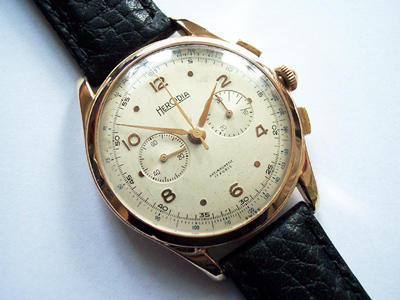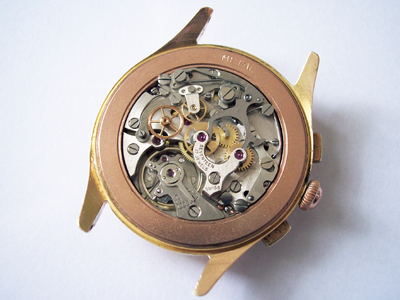 Rich.
** Many thanks to Helge Johnsen for letting me feature his watch on the blog, and to Sven Grollé for the case repair. **