Heuer Diver 844/3 (ETA Cal. 2872)…
This diver from Heuer is known as the 844/3, and was a popular model in the 1980s.
(Click pictures to enlarge)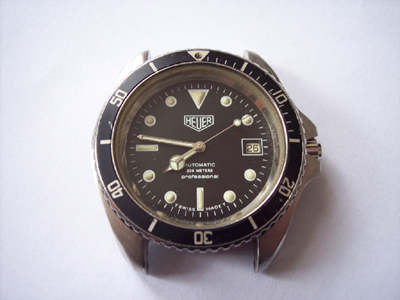 Already an established name in the chronograph field, in the late 1970's Heuer decided to test the water with a divers watch (pardon the pun!). Rather than set up an entire production facility they chose to rebrand an existing model from the French producer, Monnin. These early watches were fitted with an automatic French Ebauche calibre (the FE cal. 4611A) and the only thing 'Heuer' about the watch was the dial, as the case and movement were still signed G. Monnin. For more information and pictures of the Heuer/Monnin diver, check out this post on Jarl Fr. Rehn-Erichsen's blog Classic Heuers.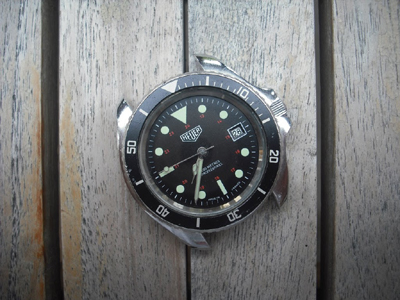 When the experiment proved to be a success, Heuer decided to develop its own version of the watch and switch production back to Switzerland. Rather than continuing with the FE cal. 4611A, the watches were fitted with ETA calibres, and other models were added to the range; namely quartz and ladies versions of the watch. Here is a catalogue image from 1981 showing the models that were available.
In September 1985 TAG (Techniques d'Avant Garde) bought Heuer and from then on all watches were badged TAG Heuer. The 844 remained in the model lineup but was rebranded as the TAG Heuer 1000, a model that proved popular and remained in the range for many years. Even today the influence of the 1000 can still be seen in some of  the current Aquaracer models.
It's hard to date the watch in this post exactly, but it must have been produced between 1981 and 1985 as it is fitted with an ETA Cal. 2872, and only has Heuer printed on the dial.
There wasn't anything wrong with the watch this time, the movement just needed a service. As the original hands weren't in the best condition, rather than restore them, the owner preferred to replace them with sword hands. The new hands weren't an exact match and needed to be adjusted to fit properly, but the result was worth the effort I think.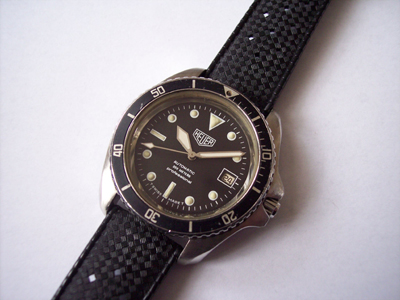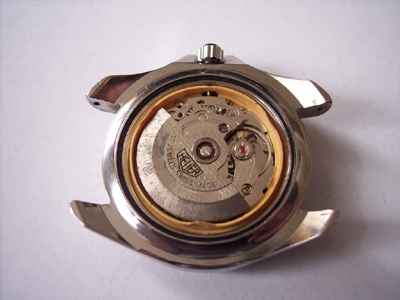 You may have noticed that a Heuer transfer has been added to the rotor of this watch.  As the condition of the movement is much better than the rotor,  my guess is that the original rotor was damaged at some time and was replaced.
Rich.
** Thanks to Anders Bunes for letting me feature his watch on the blog, and to Marius Jensen for providing information and pictures for this post. **