Oris Cal. 461…
This vintage Oris dates back to the 1950's and would originally have been worn as a mens dress watch, but at 31mm wide is almost considered a ladies watch by today's standards. The watch was in reasonable condition but showing it's age on the textured dial and hands.
(Click pictures to enlarge)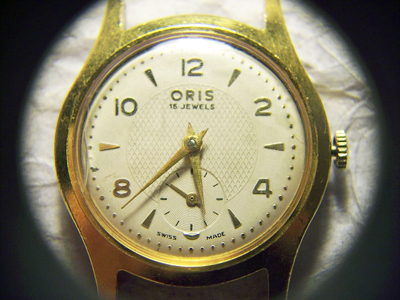 The movement is a 15 jewel manual winding caliber with subseconds. The difference between subseconds and centre sweep second movements is the position of the fourth wheel in the going train. In centre sweep movements, the fourth wheel has it extended pivot running through a hollow centre wheel and cannon pinion, while in subsecond movements the centre wheel and cannon pinion are solid and the fourth wheel is positioned directly between the third and escape wheels.
(Click picture to enlarge)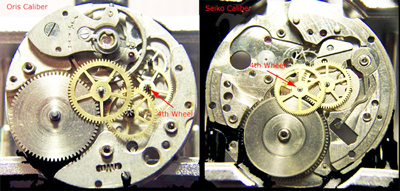 The gold plated case is in very good condition for its age but I couldn't do anything about the marks on the dial. Textured dials from this period are very difficult to clean effectively. I'm not exactly sure what the dial is made from but I wasn't going to risk any kind of liquid on it.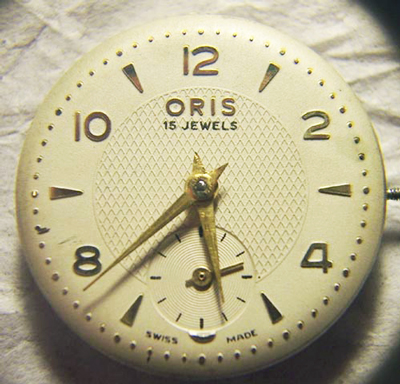 Even with the visible flaws, it's still a nice looking watch that runs beautifully. Another interesting project.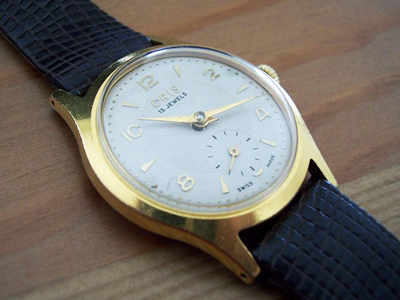 Rich.