Benrus Calendar (ETA Cal. 900)…
Another new name, and the first American watch to feature on the blog. Here is a very elegant Benrus dress watch from the 1950's.
(Click pictures to enlarge)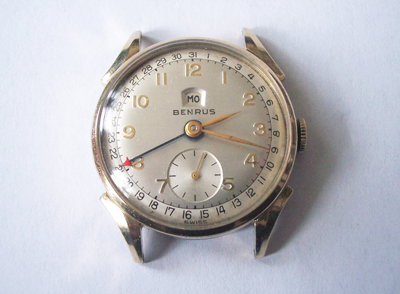 Benrus was an American company founded by three Romanian brothers, Benjamin, Ralph and Oscar Lazrus, the name being a combination of BENjamin LazRUS.  The company was started in New York in 1921, and while a small amount of production occurred there, the bulk of the watches were manufactured in La Chaux-de-Fonds in Switzerland and imported into the US.
Production increased steadily over the years with Benrus eventually becoming the 3rd largest watch company in the US after Hamilton and Bulova. The WWII years were particularly good for Benrus as they were chosen to produce watches for the US service men, and timing devices for bombs and other weapons.
After many successful years the company was bought by Victor Kiam (of Remington Razors fame) in 1967, who unfortunately fell foul of the quartz revolution in the early 1970's. The majority of the company assets were sold off, and an attempt to consolidate the remaining assets proved unsuccessful, so the company finally filed for bankruptcy in 1977.  (If you would like to read a more detailed history of the company, you can do so here).
Ok, back to the watch. The calibre in this watch is a 17 jewel, manually wound, ETA cal. 900. You may have noticed in the first picture that the watch has a pointer date and day display. In this watch the movement had been augmented with a calendar module not found on all ETA 900 calibres, with the dial and hands removed you can see the day wheel and the calendar module.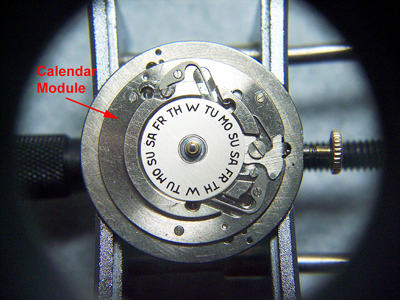 Removing the day wheel reveals all the components of the calendar mechanism.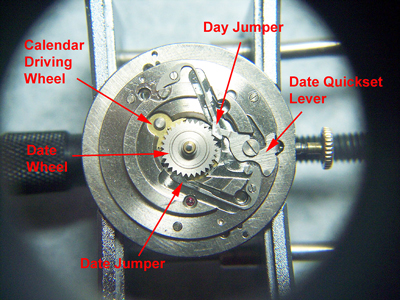 Power for the calendar mechanism is provided by the calendar driving wheel which rotates once every 24 hours. On this wheel is a pin which contacts the date wheel pushing it forwards. At the same time the pin also contacts a gear on the underside of the day wheel so both the day and date move together during the date changeover.
The day and date jumper springs provide the necessary tension to keep the wheels in place, and ensure that the day and date 'jump' forward during the changeover. The mechanism also has a quickset lever which allows the wearer to 'fast forward' the date by pushing in the crown.
When this watch arrived it had two problems, it was stuck in the time setting position and it was losing time during the date changeover. Thankfully both problems were quickly solved, tightening the cannon pinion cured the 'losing time' problem and an examination of the keyless works revealed that the setting lever was damaged and the setting lever spring was broken.
After replacement parts were sourced and fitted and the movement serviced, the watch was back up and running again.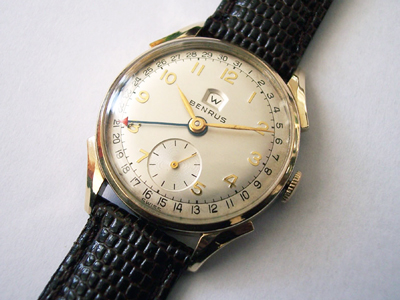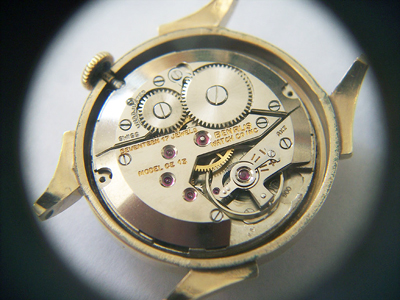 Rich.
** Many thanks to Pieter-Paul de Kluiver for letting me feature his watch on the blog. **