Missing a crystal, this vintage chronograph from Zodiac arrived looking pretty sorry for itself.
(Click pictures to enlarge)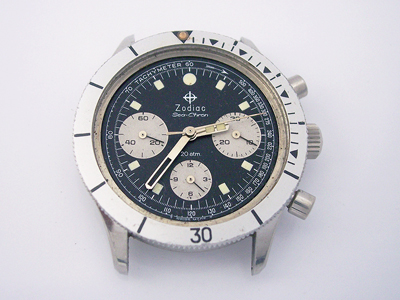 The Sea-Chron is something of a hidden gem among vintage Zodiacs as there is very little information about the watch online, most of the screen-inches being dominated by the more popular Sea Wolf and Astrographic models.
Digging around online I did find this vintage advert which shows the Sea-Chron nestled amongst a range of Sea Wolf divers. I'm guessing from the models available that this advert dates to the late seventies.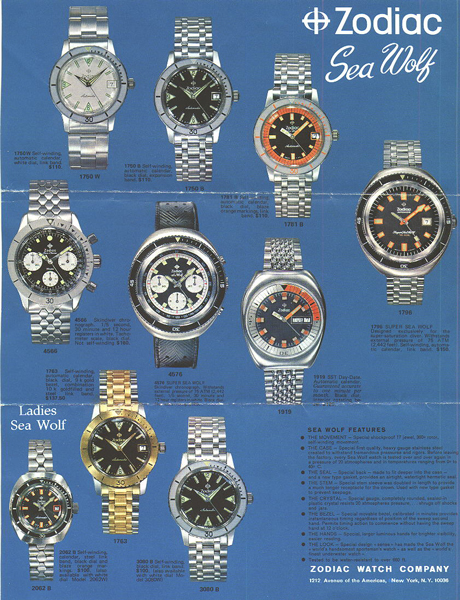 Priced at $160 the Sea-Chron was only $50 more than a 'standard' Sea Wolf diver at the time which offered incredible value for money, especially as its value these days could exceed the same Sea Wolf diver by up to a factor of ten… I really need to get started on building that time machine!
The Sea-Chron was available with a black bezel too which is a more traditional look, though personally I prefer the silver/grey bezel.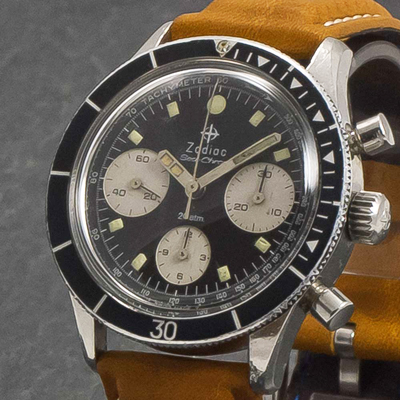 The watch in this post is still in the possession of the original owner, though it hadn't been used for many years. The crystal was lost more than 30 years ago at which point the watch found its way into a drawer and was only discovered again last year.
Amazingly the dial and hands had survived more or less unscathed. As you can see above, the lume had fallen out of the minute hand and the sweep second hand was bent but the dial, although covered in debris, had survived with barely a mark on it which is rarely the case.
Inside the watch is a Valjoux cal. 726, a great quality movement and pretty much top of the line for production chronograph calibres in the 1970's. Based on Valjoux's cal. 72, the 726 is an upgraded version that was released in 1974, the improvements being a smaller balance wheel and an increased beat rate of 21,600 beat per hour (the cal. 72 being 18,000 bph).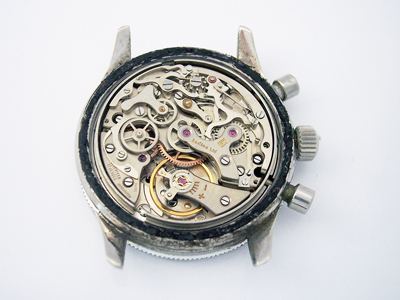 After 30 years in a drawer it was no surprise that the movement needed a service as all the oils had completely dried out and the caseback gasket had been in there so long that it had emulsified and then solidified again into a hard plastic… nasty!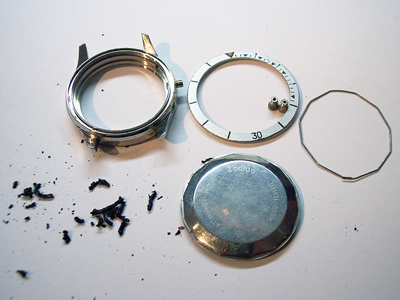 With the movement serviced it was on to the cosmetic issues. After chipping out the old caseback gasket, all the casing parts were given a few laps in the ultrasonic cleaner, after which the crystal aperture was measured and a new crystal ordered. The hands were re-lumed to match the hour markers and the sweep second hand bent back into shape before the watch was rebuilt.
I think this watch is great and represents everything that a vintage chronograph should be; it looks great, is a sensible size (39mm without the crown/pushers) and has a great calibre inside. I hope you agree.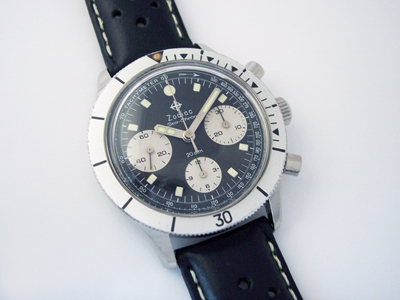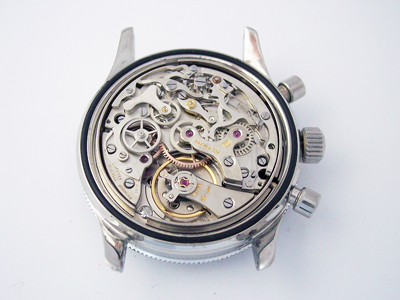 Rich.
** Many thanks to Christopher Bourke for letting me feature his watch on the blog. **